Back to perspectives
December 12, 2022
Life in the constellation
The why behind the what: going beyond the tech at IPFS Camp
The vast majority of my design career has run parallel to technology, from the early web to robots to satellites. But it's been a while since I've gotten my hands dirty; I don't recall the last time I wrote a line of code. So I wasn't sure what I would experience at a conference centered around the InterPlanetary File System (IPFS). What I did know was that our team's been doing some pretty interesting stuff with Protocol Labs, so IPFS Camp (Part of Protocol's LabWeek2022) conference was sure to be thought-provoking, at the very least.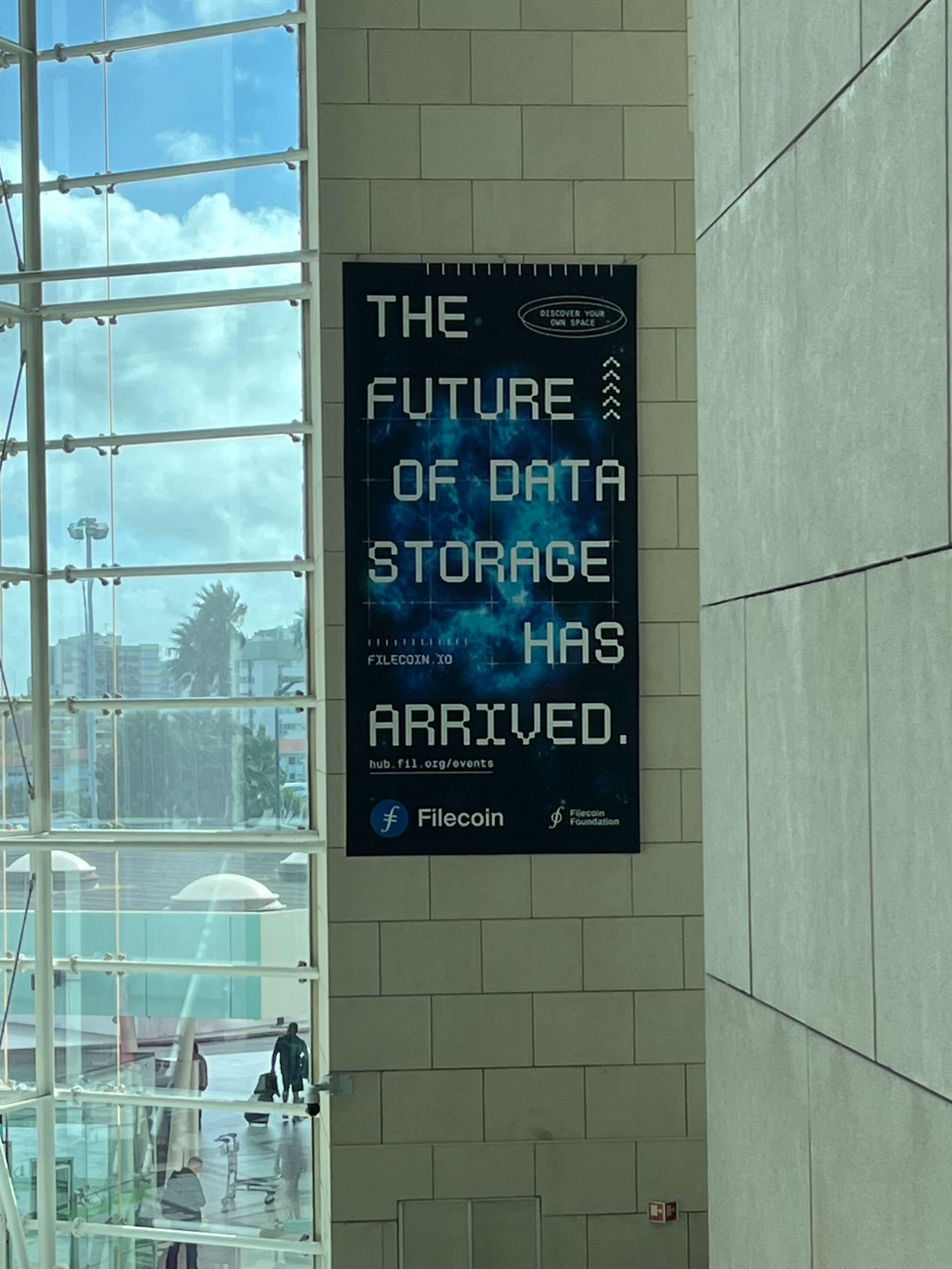 Emerging into the Lisbon airport, I found myself surrounded with banners for Filecoin, an IPFS-based cooperative digital storage and retrieval system. I had no idea what these banners might mean to others attendees, but for me they seemed to promise something grand… and perhaps a bit hard to wrap my head around. 
I met up with my colleague Ryan, tech lead at Little Bear Labs, at the event space (Convento do Beato, a beautiful former convent). After a quick COVID test, made my way to the main stage. All around me were excited conversations about blockchain consensus mechanisms and the relationship between IPFS and IPLD... not at all my areas of expertise, so I was feeling a bit out of place. Thankfully, that changed quickly.
After a brief welcome, the first speakers took to the stage to discuss decentralization and human rights, and I was immediately riveted.
Jonathan Dotan talked about Starling Lab and the vital role of decentralization and data immutability in the fight against misinformation and our ability to capture, verify, and preserve history. 


 

Next up, Phoebe Poon talked about the future of decentralized publishing, specifically how it supports pro-democracy media in Hong Kong. 


 

Finally, Xavi Vives shared his experience of working against censorship in Catalonia, spending two years building a censorship-resistant voting system in absolute secrecy. 
All of this, in the first 15 minutes of the conference. It dawned on me what a non-developer like me would find here: the why behind all the emerging tech people were chattering about.
Over the next few days, I learned about an array of projects enabling new horizons in human rights, art, games, and language learning. As someone that only speaks one language (despite my valiant DuoLingo attempts), I was particularly interested in the listening-based language learning project OmniLingo (built on top of Mozilla's Common Voice). 
Of course, most sessions were deeply technical presentations that made a lot more sense to an engineer like Ryan (be sure to check out his reflections on the conference too), although I did get to hear Mauve Signweaver actually explain the relationship between IPFS and IPLD. But IPFS Camp was ultimately about more than the technology — it was a chance to see how all this stuff is making an actual impact in the world. 
Sitting in a cafe near Lisbon Cathedral, I scribbled down my notes in an attempt to document the last three info-packed days. IPFS Camp was billed as a gathering for the entire IPFS community, and while I may not have left the conference with a new technical skill, I certainly came away with a new perspective on how I fit into that community. Seeing the big picture of IPFS gave me a deeper appreciation for the work we're doing with Protocol Labs to build things that don't yet exist — but will make a profound difference for people's lives when they're realized.